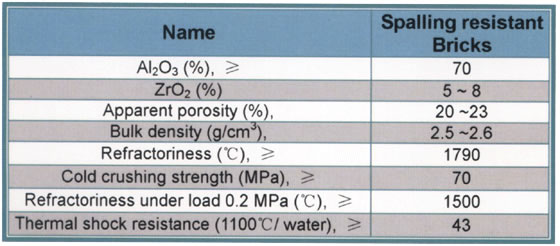 The Alkali-resistant Brick is made from high quality pyrophyllite, with adding flint clay, bonding clay and appropriate amount of additive. It is easy to improve microstructure of glass phase after reacting with alkalinity oxide, and then creates a layer of cover on the brick to plug apparent porosity to prevent alkali slag from infiltrating. It features high strength, steady bulk, and good resistance to corrosion, infiltration and flake.
The high strength Insulating Brick is used in preheating zone. The alkali-Resistant Brick is used in preheater and 3rd wind pipe of large sized kilns & calcining zone of small and middle sized kilns.
 Fireclay brick packing: Fireclay bricks are packed on wooden pallet and then polyethylene film is placed over it, finally the package is tied up with plastic-steel strips.
Fireclay Brick Order Quantity: Minimum order is 10mt    
Fireclay Brick Delivery Time: Fireclay brick can be delivered within 30 days after signing contract.