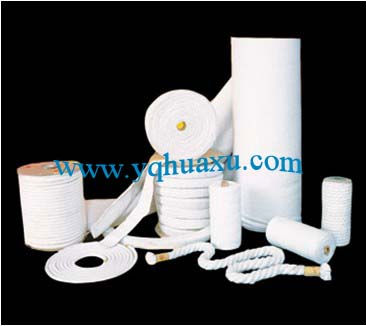 Classification Temperature: 1260℃
Description:
Luyang ceramic fiber textile includes the finished products of cloth, rope, belt and yarn etc, which is processed with ceramic fiber spun bulk, alkali-free glass filament and high-temperature resistant stainless alloy wires through special processing. Besides the above products, we can also provide high-temperature resistant textile with special specification and performance according to the demands for operating temperature by customers as well as specific operating conditions.
Features:
Low thermal conductivity
Low heat storage
Reduces fume emission around refractory
Excellent thermal shock resistance
Resistance to gas  velocity
Easy to install
Adheres to most ceramic and metallic surfaces
Excellent corrosion resistance
Insert to most chemicals
Impermeable to molten aluminum,zinc,copper & lead
Asbestos free
Typical applications:
Cloth and tape
Gasket and wrapping material
Cable and wire insulation
Welding curtains and blanket
Furnace curtains & heat zone separators
Fuel line insulation
Expansion joints
Welding blankets
Furnace curtains and heat zone separators
Personnel and equipment protection
Fire protection systems
Rope
High temperature seals and packing in furnaces and heaters Cord
Door seals for stoves and ovens
Thermally insulating pipe wrap
Braids
Kiln car seals
Furnace door seals Jointing
High temperature door seals
Mould seals
1、Ceramic fiber cloth and tape
2、1260 Ceramic fiber round braided rope and square braided rope
Braided rope are available in round and square form and are produced by plaiting ceramic fibre yarns around a central ceramic fibre core,resulting in a high strength,high density product with low compressibility.Each yarn is reinforced with a single filament glass fibre or alloy wire depending upon use temperature.These products are especialy recommended for heavy duty applications. 

3、1260 Ceramic fiber twisted rope
Twisted rope consists of a multiple of ceramic yarn strands which can be either fiberglass or stainless steel reinforced with a single filament glass fibre or alloy wire depending upon use temperature.These products are especially recommended for heavy duty applications.

4、Ceramic fiber yarn and sleeve
Yarn is manufactured from ceramic fibre.This yarn is the base of all the ceramic textile range of products.The yarn is reinforced with either a fiberglass or a fine stainless steel.
Cloth and tape is woven from a glass or inconel wire reinforced yarn.
Sleeve are produced by converting ceramic blanket and by processing refractory ceramic fibre yarn into woven products.